Hey guys! Welcome back for another REVIEW!!
This time we have a review for the company called Two Bitcoin.
If your new to MLM's or if you've been around since the invention of the wheel, you'll still get some good info from this review!
We'll be going through the company, the products, the compensation plan and the cost to join!
Researching and reading as many reviews as you can, is the BEST way to help you in your decision when joining a program that just seems TOO good to be true!
So let's dive right in!
Two Bitcoin Review – The Company!
On the website itself there isn't any information on who runs or owns the program.
Strike 1..
The website domain was registered privately as "twobitcoin.com" on the 11th of July, 2016.
An incomplete Russian address is posted on the Two Bitcoin website, which is REALLY weird, since the default language for the site is SPANISH..
Strike 2..
Doing a bit more searching will lead you to a Mr.Jose Carlos Martins as the founder and CEO of the company.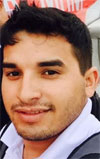 Brazilian MLM company by the name of 'Ares Perfumes & Cosmetics' was what Martins was previously promoting in 2015, based out of Brazil.
From the information available, Two Bitcoin is a company that is run under the brand "Two Company". Which is part of a VOIP (Two VOIP) offering and a yet to launch pay to click (Two Clik) scheme.
Two Bitcoin seems to be run independently from these two other programs.
Two Bitcoin Review – The Products!
Not having any products or services for sale, affiliates who join, are only able to market and sell affiliate memberships ONLY!
Strike 3…. You're outtaaaa hereeeee! 😛
Two Bitcoin Review – The Compensation Plan!
Anyone who wishes to become an affiliate with Two Bitcoin must 'invest' bitcoin for a 5% daily ROI capped at 200%.
Affiliates may invest through Four investment packages..
Start – $150
Premium – $250
Master – $500
Executive – $1000
Recruitment Commissions
TBC Affiliates can also earn a 10% 'direct recruitment commission' on the amount of funds that are invested by your personally sponsored affiliates.
Residual Commissions
Just as it sounds, affiliates can earn residual commissions based on a binary compensation structure.
Which places the affiliate at the top of a binary team that splits left and right.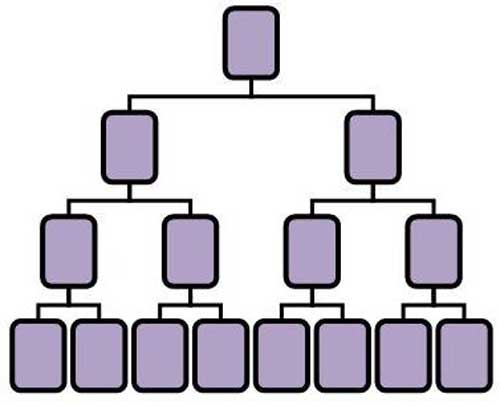 The first level is made up of two open positions that must be filled by you recruiting people to your team..
Each subsequent level is created by splitting the previous two positions into their own two open positions..
Each new level holding twice as many positions as the level above it.
Every position can be filled through direct and indirect sponsorship of new affiliates.
Investment volume is tracked on both sides, affiliates being paid a 10% commission on the volume generated by their weaker binary side (minimum $1000).
Reinvestment volume is counted at 50% (eg. a $1000 reinvestment is counted as $500 in the binary team).
Any leftover volume on the stronger binary side, is carried over until it is matched with volume from the weaker side.
Reinvestment Commissions
Referral commissions are available as well, that are paid on reinvestment by downline affiliates and tracked by a unilevel compensation structure.
Based on TBC's "Unilevel Compensation Structure" each personally sponsored affiliate is placed directly under you in your First Level.
Each affiliate sponsored by your Level one affiliates, is placed in your Second Level.
Also, each affiliate sponsored by your Second Level, is placed in your Third Level, and so on..
Each payable level is capped by TBC at 10, with each commission paid, based on the amount invested.
a $150 Start package reinvestment generates a $1 commission
a $250 Premium package reinvestment generates a $2 commission
a $500 Master package reinvestment generates a $4 commission
a $1000 Executive package reinvestment generates an $8 commission
Two Bitcoin Review – The Cost to Join!
If you want to become an affiliate of TBC it will cost you 25$.
Plus an investment into one of the 4 packages.
Start – $150
Premium – $250
Master – $500
Executive – $1000
Two Bitcoin Review – The Verdiiiiiiiict!
Two Bitcoin claim a 200% ROI payout generated via forex and cryptocurrency trading.
Which makes no sense at all, because if they were able to create a daily ROI of 5%?
Why not just keep it for yourself?
When Two Bitcoin's compensation plan is taken into consideration, there's not much left to trade with. Let alone enough to generate a consistent 5% daily ROI.
Also, here's another company with NO products or services!
All Two Bitcoin is doing, is using Newly invested funds to pay off existing investors.
Simply asking a TBC affiliate for evidence of forex or cryptocurrency trading taking place..
as well as accounting, tying trading revenue, to daily ROI payouts is all the info you would need!
Anything less then what was asked for, is a CLEAR indication that this is a Ponzi scheme!
So there you go guys! If you decide to take part in this program then you are doing so AT YOUR OWN RISK!
I hope you got all the info necessary to make a good decision!
Cheers!
 ~ Travis C.