Hey everyone! Thanks for checking out my Cycler Cash Review!
Another MLM company is up for grabs and if you are here now, then you are doing the SMARTEST thing you could do, and that is Research!
Investigation!
Reviewing the potentially positive or negative affects that joining this program could have…
Reading as many reviews you can get your hands on, about the company you're thinking about dumping your HARD EARNED money into, is THEE best way to weed out any scammers!
This review will give you all the info you need on the company itself, the products they provide, and the compensation plan!
So let's get to it then!
Cycler Cash Review – The Company!
When you are checking out a new system, program, what have you… you need to check these things first!
Owner of the site/program
Operator of the site/program
The age of the site/program (The younger the site, the more risk there is involved)
On the site for Cycler Cash there wasn't ANY information in regards to who owns it OR operates it.
The website domain for Cycler Cash was registered on December 20th, 2016 as "cyclercash.com", listing "Cycler Cash" as the owner.
Bavaria, Germany is the address provided.
Barely any information on the company or program other than standard FAQ's and Where to pay.
They didn't even take the time to spell-check the website! LOL
Cycler Cash Review – The products!
Again, another company with absolutely NO products or services to sell..
Affiliates who buy into the program are only able to market and sell, you guessed it, Affiliate memberships..
Bundled into the Cycler Cash affiliate membership includes access to '10 important e-Book Whats help You To start The Way to be Rich'.
Cycler Cash Review – The Compensation plan!
Anyone who wants to buy into this program are required to purchase positions into One of the Three Matrix Cyclers.
There are 3 sizes to each Matrix cycler; 4×2, 4×3 and 4×4.
The 4×2 matrix places an affiliate at the top of a matrix, with four positions smack-dab underneath them.
These four positions form the 1st level of the matrix..
The 2nd level of the matrix is set up by splitting these four positions into another four positions each (16 positions).
The  4×3 and 4×4 matrix broaden the number of levels available by one and two levels respectively.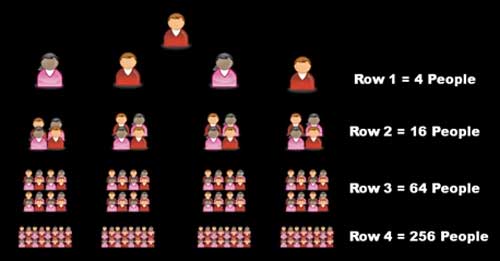 So, basically, if you buy into the 4×2 matrix your house can contain 16 people.. 4 affiliates x 2 rows down.
4×3″ your matrix can contain 64 people.. 4 affiliates x 3 rows down.
4×4 matrix can contain 256 people.. 4 affiliates x 4 rows down.
Affiliate commissions are paid out as matrix cycler positions are filled, which happens when new and existing Cycler Cash affiliates buy into matrix positions.
How much commission that an affiliate earns and is paid out, depends on which matrix cycler position is filled:
Start Plan (4×2 matrix, positions cost $10) – $60 when all matrix positions have been filled
Premium Plan (4×3 matrix, positions cost $25) – $350 when all matrix positions have been filled
Power Plan (4×4 matrix, positions cost $50) – $600 when all matrix positions have been filled
Cycler Cash Review – Cost to Join!
The cost to join and the Compensation plan are always the first two pieces of information everyone wants to know first!
To become an affiliate, this company requires you to buy into one of the Matrix Cycler positions ranging from $10 – $50..
To become a Full participant in Cycler Cash's compensation plan, it will require you to buy into all Matrix Cycler positions at a cost of $85.
Cycler Cash Review – Verdict!
First off, if you were ever curious about it.. This is EXACTLY what a pyramid scheme is!
There is absolutely NO product or service available for sale..
Your wealth is strictly dependent on how many Affiliates you sign up, and how many Affiliates your affiliates recruit.
Secondly, there isn't very much transparency on who owns or runs the site, which is the biggest red flag to me!
You should NEVER join a company or program where you don't have a clear picture or vision for 'said' company from the companies owner.
And there are NO refunds…
Either way this is a scam, once recruitment dies down, Cycler Cash will go under and the owner will just revive the program under a new name and start the process of attracting new affiliates to their "NEW" system…
I do NOT recommend this company and I wholeheartedly recommend you do MORE research and read MORE reviews if you don't think mine was clear enough.. 🙂
Thank you for taking the time out of your busy day to give my review a good read through! If you have any comments or questions, don't hesitate to leave it in the comment section below…